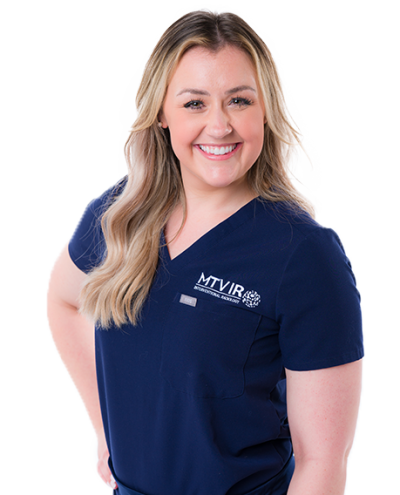 Alyssa Morrish, MSN, APRN, FNP-C
Director of Nursing
MTVIR's Director of Nursing, Alyssa Morrish is a Certified Family Nurse Practitioner with an additional certification in the multidisciplinary care of oncology patients. She received an undergraduate in nursing from the University of Oklahoma Health Science Center and completed her graduate nursing degree from the University of Texas at Arlington.
In 2016, Alyssa obtained national accreditation from the ONCC as an Oncology Certified Nurse. Alyssa has a natural passion for nursing and her expertise in the management of pre and post-procedural care of cancer patients is an invaluable resource for MTVIR's oncology services. Along with Oncology, she has special medical interests in the areas of peripheral vascular disease and the management of its comorbidities, preventative health, men's health, women's health, and overall wellness.
Medical School
Undergraduate nursing- The University of Oklahoma Health Science Center
Graduate nursing- The University of Texas at Arlington
Certifications
Family Nurse Practitioner via AANP,
Oncology Certified Nurse via ONCC,
Chemotherapy Certified Provider via ONS
Specialties
Management of pre and post procedural care of cancer patients
Management of antcoagulation, radiation and chemotherapy safety and symptom management
Professional Achievements
Chapates, A., Cho, E., Osman, H., Jeyarajah, D. (2018). Nurse Navigation: An important aspect of multidisciplinary care for hepatopancreaticicobilliary cancer patients. Oral presentation at Americas Hepato-Pancreato-Biliary Association Annual Meeting March 2018 and poster presentation at the Oncology Nursing Society 43rd Annual Congress May 2018
Oncology Nursing Foundation 2018 Master's Scholarship Recipient
Program coordinator for the first certified Joint Commission HPB Cancer Program nationally
Professional Affiliations
Oncology Nursing Society
American Associate of Nurse Practitioners
Texas Nurse Practitioners
Start Living
Connect with the professionals at MTV IR to get a consultation and get back to living your life.
request a consultation
---